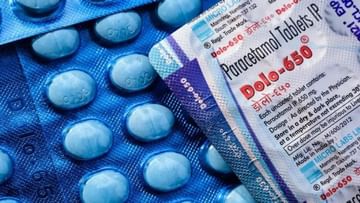 Dolo 650 (Symbolic Image)
The Bangalore-based company's office has been raided, which has led to a number of issues. Since the raids on July 6, the company and Dolo Tablets have been in discussion.
Corona period (Corona Pandemic) Meanwhile many pharmaceutical companies became rich. One of these is also called Micro Labs. Maybe you don't know the name of micro labs or not so well known. But everything will come to mind as soon as the name of this company's drug is mentioned. Yes, the name of this drug is Dolo-650. This is the same drug that emerged during the Corona period as an 'amulet' and a means of treatment.
Any doctor you see or any drug store you go to will have Dolo-650 tablets as soon as you have symptoms of fever. Now every day new revelations are being made about this company. A disclosure has been made by the Income Tax Department. The department's investigation revealed that Micro Labs had started a special currency of giving gifts to doctors to increase their earnings. According to the disclosures, freebies worth Rs 1,000 crore were distributed to doctors. Here freebies can be understood as gifts or presents.
The Income-tax department said the doll-making company had resorted to "immoral practices" to increase its business and distributed gifts worth thousands of crores to people involved in the medical profession. When doctors get gifts of so much money, expensive gifts, it is natural that they will only write Dolo-650. The same thing happened with Prime Labs. Keep in mind that Dolo-650 is not an expensive drug, nor is it an expensive antibiotic but a simple fever medication. But the fever medicine did such an amazing job that it made millions.
Exposing the company
The success story of Micro Labs, the company that made Dolo-650, began to appear in newspapers and online media. The matter gradually came to the notice of the income tax department and today Rs. A new angle of Rs 1,000 crore has been discovered. The Bangalore-based company's office has been raided, which has led to a number of issues. The company and Dolo have been in tablet headlines since the robbery took place on July 6.
The raids were not easy either, but 36 locations spread across 9 states of the country were raided simultaneously. Shocking information has come out of it. The work of Micro Labs is not small. Along with manufacturing medicines, this company is in the business of marketing medicines and active pharmaceutical ingredients. Its business is spread across 50 countries of the world. Apart from the paper evidence, the Income Tax department also found digital data during the raid.
What the Income Tax Department has to say
The Income Tax department said that prima facie evidence revealed that the company had spent money on gifts to medical professionals under the head 'Sales and Promotion'. These freebies include travel expenses, gifts etc. Gifts were given to doctors for promotion and publicity, seminars and symposiums, medical advisory to promote the company's products. An investigation by the Income Tax Department found that Micro Labs had resorted to 'unethical practices' and increased its business.